Making and maintaining a reef aquarium is not easy. In fact, it is quite tedious to setup and it takes a lot of patience before you see the result. You will start to appreciate its beauty once you see the corals starts growing and Coralline starts giving pinkish color to the corals.
Getting a mixture of blue and white LED lights can also give some boost to the color of your fishes. This sample reef aquarium is achievable.
Watch the video closely and identify some of the corals. Take note, all these corals are inside the aquarium.
Do you have your own reef aquarium? Share it!!!
===========================================================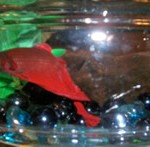 Guide to Betta Fish and Betta Fish Care
A complete guide to water conditions and how to easily maintain proper water quality
The 5 things you must do before adding your Betta to his new tank.
When and when not to use a filter. There is a ton of inaccurate info out there on filters. I'll tell you the truth about filtration so you never have to wonder again!
How to care for Bettas separately and in community tanks with other fish
The importance of substrate and why this is a crucial component of your Betta tank. I'll tell you what type of substrate to buy and how much to use.