Previously we have reviewed the Resun SK 300 Skimmer which is also hang on the back and fits quite nicely on nano tanks especially on 15 gallon tanks and below.  Unfortunately that Resun HOB skimmer is rated only for a maximum of 25 gallon; I used it on my 35 gallon tank which leads me to an upgrade.  On this article, we will be reviewing the newly released Reef Octopus BH90 HOB Protein Skimmer.
Specs:
Height: 23.8″
Foot print: 7.5″ x 7.5″
Reaction Chamber: 3.9″
Pump: OTP‐1000s
Fit tanks: 300~500L / 80~130Gal
Feedback
I thought this skimmer is small but looking on the height, it is almost 2 feet.  I was stunned even more after opening the box.  This skimmer is overkill for a 35 gallon tank.  I tried searching on the net on the reviews of this skimmer but I guess I will be the first one reviewing this except for the sellers.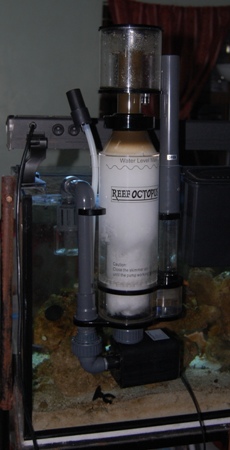 According to the vendor, this skimmer skims the top of the water surface to avoid the oil buildup on the water surface. Indeed it does!  In just one day, during the break-in period, it removed the filthy oil buildup on my reef tank.  Not only that, it also removed the yellowish color of the water.
This skimmer is very easy to setup. With just few detachable parts, this skimmer can be assembled in less than 10 minutes including taking it out from the box.  Another good point is that, this skimmer can function as Hang On the Back skimmer and can be used as well inside the sump. So if your current setup is a sump less tank and is planning to upgrade it with a sump later on, this skimmer is a good buy for you.  Its price is not too far from Reef Octopus NWB110 which is also utilizing the same pump.  It also comes with a defoaming device to minimize the bubbles that goes into your tank. Another great thing about this skimmer is, it is quite.  Though you can hear the bubbles and the water surge inside its conical chamber, this skimmer does not whistle compared to others.  Thanks to the silencer installed on its air intake.
Overall, I have used 4 skimmers and so far this is simply the best!
===========================================================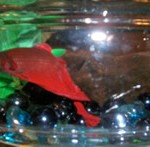 Guide to Betta Fish and Betta Fish Care
A complete guide to water conditions and how to easily maintain proper water quality
The 5 things you must do before adding your Betta to his new tank.
When and when not to use a filter. There is a ton of inaccurate info out there on filters. I'll tell you the truth about filtration so you never have to wonder again!
How to care for Bettas separately and in community tanks with other fish
The importance of substrate and why this is a crucial component of your Betta tank. I'll tell you what type of substrate to buy and how much to use.