Making the most out of your cheap protein skimmer and have it live a little longer
There are lot's of brand of protein skimmers out there in the market.  Some of them are good some are not and some are crappy.  One of the most avoided skimmers of the hobbyists is the turbo queen skimmer.  Though this skimmer is cheap, this is really not that efficient in removing gunks in your marine tank system.
This particular marine skimmer is powered by a seaquest 2200 power head allowing the flow of water to pass through a venturi valve which is a lot smaller.  I was never satisfied with this skimmer.  Finally came the day that the power head broke.  So i came with the idea of just replacing the power head and experiment on it to make it a lot more efficient.  Here are the things that I did:
1.  Cut the venturi valve of the skimmer
2. Replace the power head with seaquest 600 (lower flowrate) instead of seaquest 2200.
3. Put some teflon to compensate with the space between the power head and the tube where the venturi valve was cut.
4. Insert one end of air hose on the air tube of the power head
5. Insert the other end of the air tubing to an air pump.
6. Adjust the flow valve of the skimmer.
Here's a picture of how the skimmer works right after the break in period
Click here to GET the BEST PROTEIN SKIMMERS from our list!!!
Click here to GET the BEST PROTEIN SKIMMERS from other stores!!!
===========================================================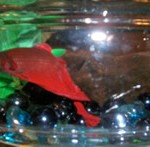 Guide to Betta Fish and Betta Fish Care
A complete guide to water conditions and how to easily maintain proper water quality
The 5 things you must do before adding your Betta to his new tank.
When and when not to use a filter. There is a ton of inaccurate info out there on filters. I'll tell you the truth about filtration so you never have to wonder again!
How to care for Bettas separately and in community tanks with other fish
The importance of substrate and why this is a crucial component of your Betta tank. I'll tell you what type of substrate to buy and how much to use.